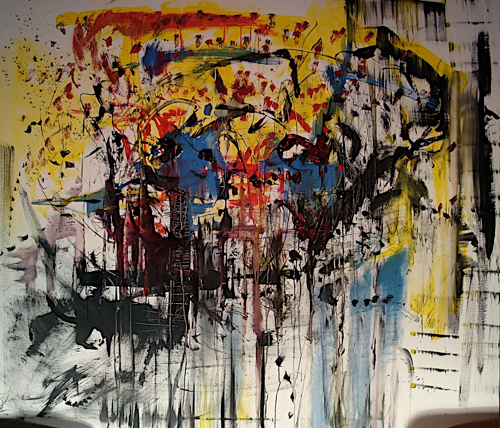 We arrived in London hours early, as we expected heavy traffic that was, in the end, non-existent.  We set up and then headed to a Turkish restaurant that ended up serving some of the best food we've had in the UK. We even got a dessert on the house, surely because were were taking photos of our spread like tourist idiots.
Yadda, yadda, yadda…
This was the best performance of the tour. All elements were appropriate and in harmony.
ANTON'S FOOD TOUR DIARY
London – this was the killer for me, had a leisurely time in a Turkish restaurant over the road from the venue called (I think) 'Ates'  Rod had some Turkish pizza thing and Ang and I had kebabs with an excellent selection of onions and salad.  No idea what was on the onions but I'd have been happy with those alone, though the meat was excellent.  They even brought us some free desert (which is a sure fire way to win yourself a tip by the way), all in all a great feed which we followed up with my favourite gig of the tour.
Painting owned by Hugh Metcalfe.
1 Comment
UPCOMING EVENTS
None at the moment. We're currently in research mode, rehearsing/experimenting with our new sensors and lights, trying to evolve this thing.
Most Recent