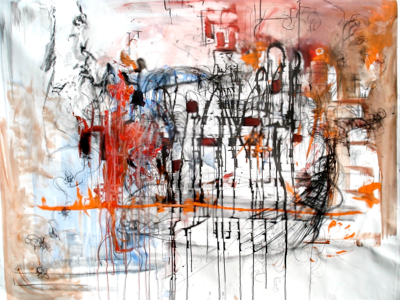 This performance was shared with the incredible Caro Snatch who had as guest the talented Mr. Mark "Shirokuma". This line up of TSC included myself on electronics and a processed microphone with Anton, Angela and Rodrigo on their usual set ups of guitar, paints and drums, respectively. During Caro's set I brought in a frankfurter to eat inside Fuel, which happens to be a vegetarian establishment. I was immediately accosted by some hipster with a curly mustache who asked me to take my wiener outside. I grudgingly ate my hot dog by a dumpster, in the rain, without shoes. After Ms. Snatch's spellbinding set we took the stage.
The performance was inspired. Split into two sets, the first half was marked by an abrupt yell by yours truly, hollering, "Choke on my frankfurter!" or some shit as Rodrigo threw all manner of cymbals, pots, sticks and bobs in my direction. And, oddly enough, I got a chance to speak to my whiskered, meat-abhorring nemesis about the incident later at Anton's digs. All was swell.
As I recall the quartet was hot fire that night, displaying a range of dynamics and flexible improvisation, bolstered by Angie's acrylic drips, strips and splatters; clumpy, dense, sponge colored textures. I added sweeps of circuit noise and foreign vocal timbres to the backdrop of Anton's aeriform wall of loops and layers as Rod worked with tonal and percussive deviations. He had a tube in his mouth, for God's sake. To top it off Angie was swarmed by onlookers marvelled at the final product of her painting, and if I remember correctly she sold that painting that very night.
Not bad. Not bad at all.
-Sergio
Painting owned by Laith Gibani.
1 Comment
ABOUT
Takahashi's Shellfish Concern merges sonic and visual information into a single transmission during improvised performances. I think we're all exploring consciousness, and I want to realize with every thought and expression that I am that through which the universe speaks. TSC helps me in trying to do this. We are based in Manchester, England.