Update June 9, 2012:
We've just gotten the video footage of our performance at the ICMC. I had originally felt bad about this performance (even though I thought, and still think, the painting turned out great) but after watching it back, I think even the performance was good. I barely remember any specifics from the performance itself. Watching this back is like watching someone else.
Originally post below – from August 3, 2011: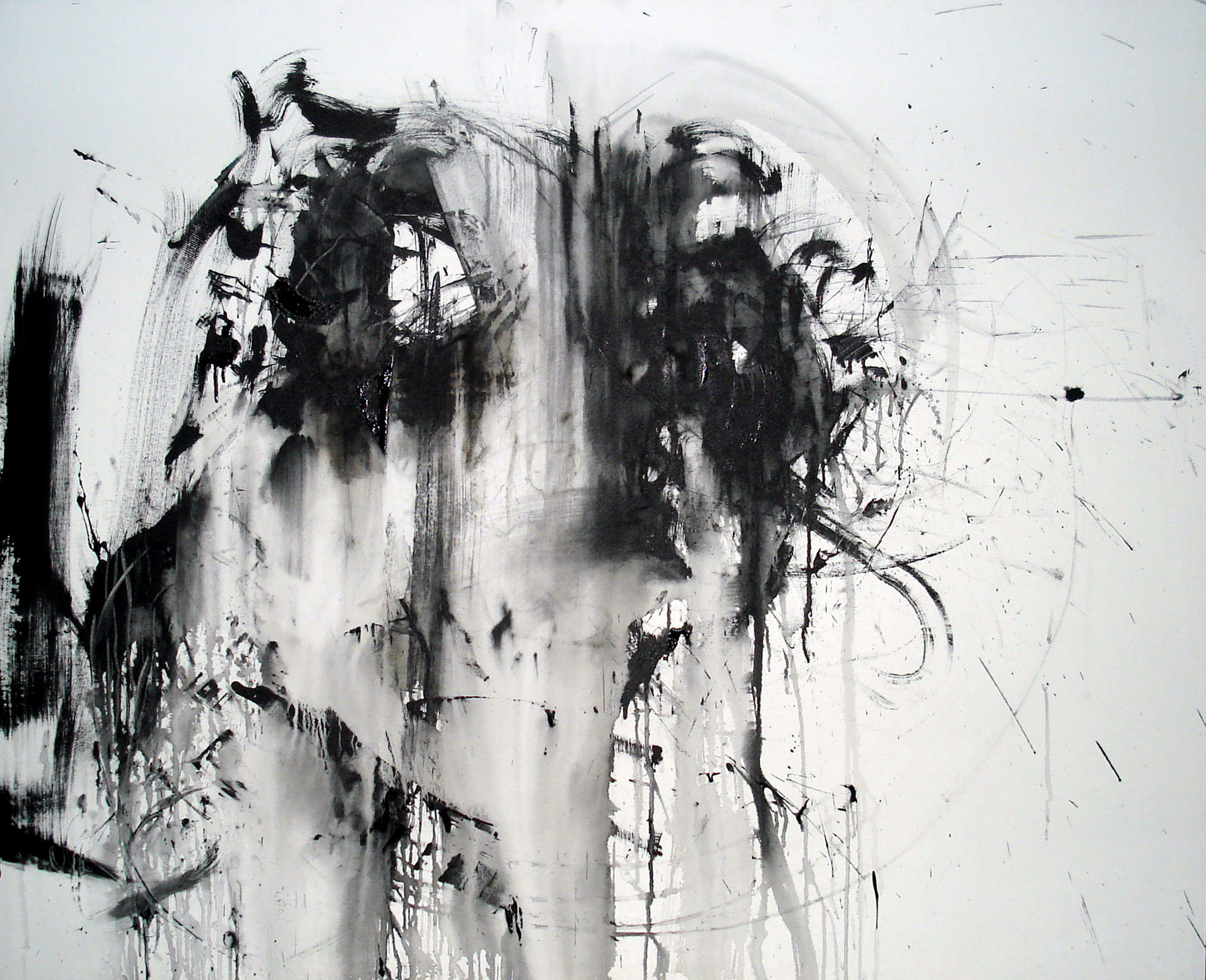 The painting is now owned by P.A. Tremblay and can been seen in his office at the University of Huddersfield.
You can listen to the performance here:
August 2, 2011 – We performed at the ICMC (International Computer Music Conference) held this year at Huddersfield University. Because our sound check was at 1pm and the concert didn't begin until 10:30pm we had a lot of time to kill. This was a good place to kill it. We attend the Unconference where the use of gesture and visuals were discussed with some interesting people who said some insightful things because of reasons.
(Here are some of those people: Freida Abtan, Adrian Freed, and David Wessel.) We also had a walk around the poster/presentation area.
We hung out for a long time with Scott Hewitt. One of the things we discussed was the tool Rod and I want to build that'll allow me to live sample & synthesize sound via the gestures I already make while painting. He encouraged us to build the hardware, just hunker down, and figure out some of the programming so we'll have a better understanding of what the thing will do.
The concert was really well attended. It was held at The Graduate, the university's on-campus bar. Believe it or not, this crowd of academics got a little rowdy! There were four acts and we went on third. I really liked  Thor Magnusson live coding. It was projected on a screen, so you could see what he was doing.
Our performance went so-so. Rod and Anton think it went better than I think it went though. I just couldn't get into it and kept repeating myself. The venue itself was really hot (Miami hot). I was also performing in front of two hot-ass work lamps. After 15 minutes I was dripping with sweat and black paint. Niiiiice and griiiiity.
ABOUT
Takahashi's Shellfish Concern merges sonic and visual information into a single transmission during improvised performances. I think we're all exploring consciousness, and I want to realize with every thought and expression that I am that through which the universe speaks. TSC helps me in trying to do this. We are based in Manchester, England.